Just read this article in today's theguardian and thought you'd enjoy it ...
Not only here for the beer: Moravia, the Czech Republic's wine region
The Czech wine season bursts into life this week, giving our writer the perfect excuse to head to the region of Moravia to sample this year's harvest
_________________________________________________________
Mark Pickering
guardian.co.uk, Wednesday 9 November 2011 09.17 EST
Article history
_________________________________________________________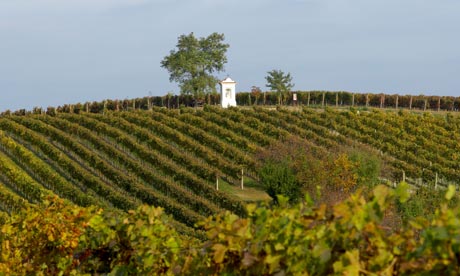 A vineyard in Moravia, Czech Republic. Photograph: Alamy
When parts of Europe quieten in a moment of remembrance at 11am this Friday, in the Czech Republic corks will pop, glasses clink and the country will resound to one collective gulp. For 11 November does not just mark Armistice Day. Here it is also St Martin's Day, and that means something else: the start of the Czech wine season.
For a country so synonymous with beer, the term "Czech wine season" may strike the casual visitor as a bit odd. I didn't see a glass of wine for the first six months I lived in Prague, so I imagined they just didn't care for the stuff, or it was made in some secret cave my ropey Czech hadn't yet bought me the password for. But it wasn't a cave I was looking for. It was Moravia. Less than 150 miles south-east of the capital, sprawling with quaint villages and hundreds of lush, green vineyards, this is undoubtedly wine country.
St Martin's Day is when the first fermented wine of the year is tasted (Czech "beaujolais"), and it provides the perfect excuse to escape into the Moravian countryside to sample it with the locals. Of the four major Moravian wine-producing towns – Mikulov, Slovácko, Velké Pavlovice and Znojmo – I headed to the latter, a gorgeous place just north of the Austrian border. There are plenty of accommodation options listed in English on the town's website (znojmocity.cz), and I would recommend a stay in the sleepy, rural hamlet of Nový Saldorf, just 10 minutes' drive from the centre. The family-run wine cellar, U Smrcka (+420 739 144 688, usmrcku.cz, doubles from £28), which has cosy, modern rooms attached, is particularly charming.
Read the rest of the article
here