Where will you be celebrating with a pint in-hand?
There are several Irish pubs in Prague to get your Guinness on because apparently...
Caffrey's
in Old Town Square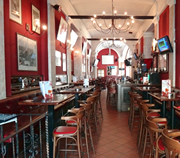 The Dubliner
located in the Tyn courtyard (not far from Caffrey's)
Rock O' Reilly's
located at Štěpánská 32 attracts lots of stag and hen parties, so be ready for a packed house
J.J. Murphy's Irish Bar
located at Trziste 4, Praha 1
is situated around the corner from Malostranské náměstí
The Irish Club
at Keramická 4 in Prague 7 has a cozy, homey feel thanks to its woodwork (direct from Ireland apparently).
Money Murphy's
at Krymská 39 in Prague 10 may not have the most authentic Irish feel, but if you're looking for a laid back atmosphere, this is the place for you. Word of warning... Guinness is bottled.
Pub O'Brien's
at Janovského 36 in Prague 10 is situated near Výstaviště, the exhibition grounds. It's a cross between Irish and Pirate. Yes,
pirate
. Argh.