I don't know about you, but I would download this app in a heartbeat. Ten Ta To is a brilliant idea that I hope comes to fruition. It can with our help!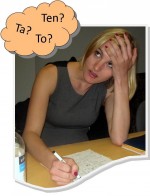 TEN TA TO
Unikátní pomůcka ke studiu češtiny pro telefony Android a iOS.
Autoři se na Vás obracejí s prosbou o finanční podporu pro vytvoření studijní aplikace, k jejímuž dokončení, otestování a uvedení k volnému stažení pro veřejnost z Apple Store a Google Play je třeba zajistit 4,000 USD.
Aplikace
Ten Ta To
představuje praktickou
pomůcku k procvičování a zapamatování českých gramatickýh rodů
, jejichž správné určení je v češtině velmi důležité a pro mnohé studenty češtiny, i potomky rodilých Čechů, často velmi frustrující, viz např.
kostel-postel
,
kůl-sůl
. Aplikace
Ten Ta To
vychází z modelu již existující aplikace
Der Die Das
pro němčinu, kterou vytvořil developer Luboš Mikusiak spolupracující na
Ten Ta To
české verzi. Bude obsahovat
4,000 nejužívanějších podstatných jmen
, včetně slov z populární učebnice Lidy Holé
New Czech Step By Step/ Tschechisch Schritt für Schritt 1.
Bude použitelná bez internetového spojení uživatelům na celém světě.
======================================
Podpořte prosím dokončeni projektu Ten Ta To a povzbuďte studium češtiny!
Žádný příspěvek není malý. Všem, kteří přispějí 250USD či více, bude jmenovitě poděkováno ve všech propagačních materiálech i na aplikaci samotné.
V USA je Váš dar odečitelný z daní. (tax-deductible)
You can make your contribution with your credit or debit card using secure PAYPAL